1/ PROBABILISTIC MARKET CLASSIFIERS
Back To Top
It is a true but frequently-overlooked fact is that the majority of indicator-derived trading signals lose money in sideways markets. The root cause is that the logic behind their design implicitly views the markets as either bullish or bearish and lacks a strategy for dealing with sideways. Even where a strategy exists there is a problem of knowing when a sideways period has begun so that it can be applied. PROBABILISTIC MARKET CLASSIFIERS (PMCs) deliver probabilities of markets being bullish, bearish or sideways based on Bayes' rule and market classification. They offer a capability to confirm a market class indicated by a trading signal so that unconfirmed trading signals can be ignored and potential losses avoided. The onset of a sideways market may also be an opportune time to look at selling options and PMCs are probably unique in offering both entry and exit signals to take advantage of the decay of time premiums.
The PMCs will give you a probability between 0 and 100 for a bearish, sideways and bullish market.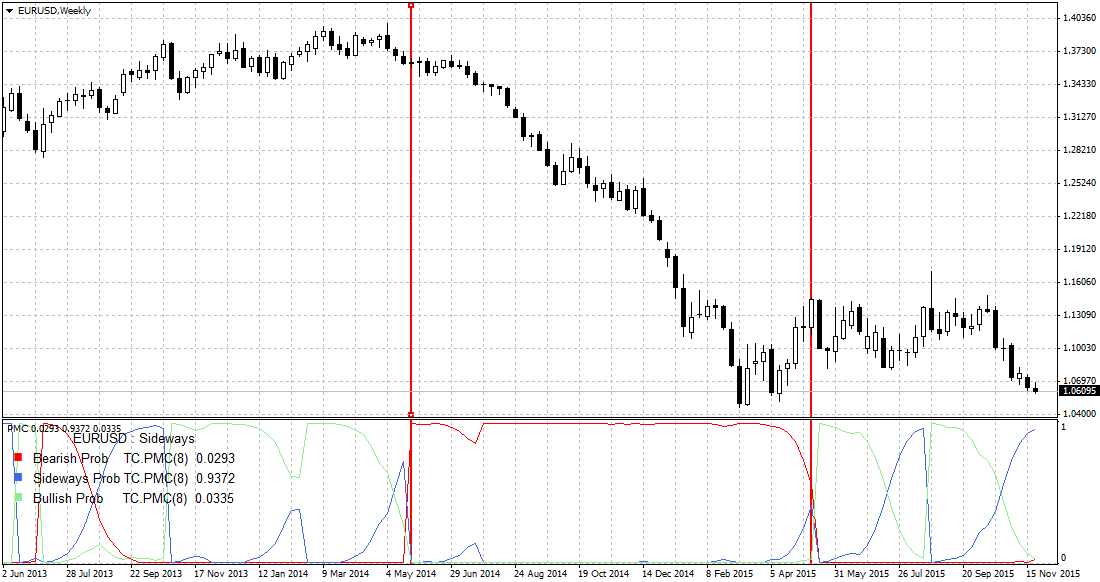 You can also combine multiple periods for a better probability outlook. We recommend using 5, 8 and 13 in the input periods parameter.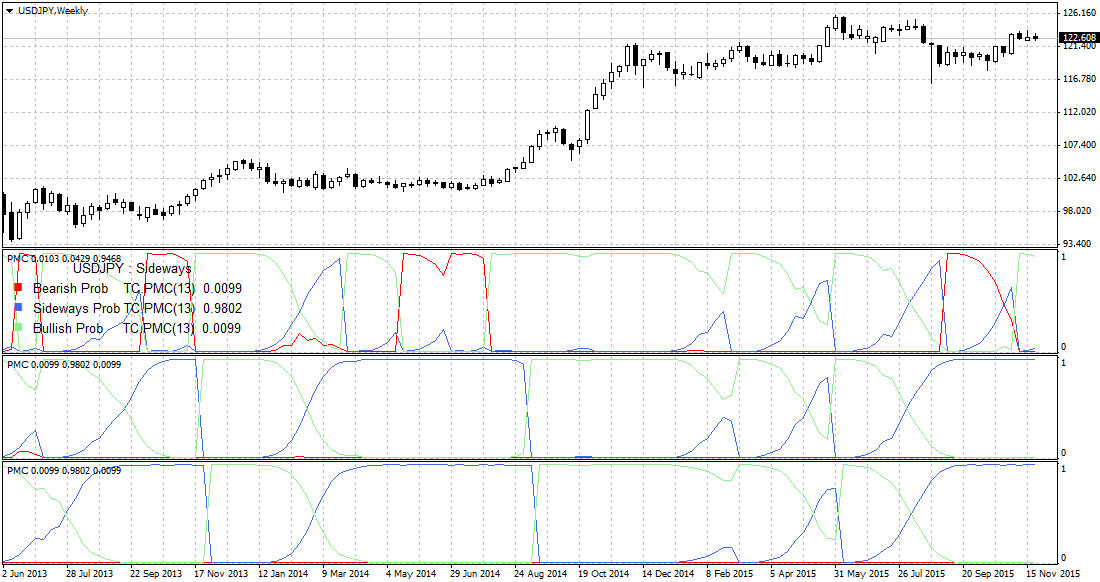 2/ PROBABILISTIC STOPS
Back To Top
An obvious reason for wanting probabilistic stops is to bring greater consistency to the chances of being stopped out; by finding a best-compromise price to allow for normal fluctuations but trigger the stop if the underlying price moves against the trade. Statistical pedigree of probabilistic stops allows their usage to be extended to at least two applications: (i) assessing trading risk before entering a trade and (ii) in combination with support and resistance data to generate probability-related entry signals.
Unlike standard time series with a single data point at each time step, market time series usually arrive in the form of bars of open, high, low and close prices. For the purpose of calculating price movements likely to trigger stops, high and low price extremities from a signal line need to be taken into account. You must be familiar with the average (mean, µ) of a series of data points and their dispersion around that mean (standard deviation, s). A Gaussian distribution describes random noise and is based solely on a mean and standard deviation. For the present purposes the salient property is that the probability of noise deviating from the mean can be related to the number of standard deviations.
The rationale for stop orders is to protect a trade from excessive losses. The fact that there is a trade means that there are external reasons for believing prices will move in a certain direction. Stops need to be wide enough not to be triggered by routine price fluctuations but close enough to be triggered if the underlying price signal (i.e. local mean) behaves contrary to expectations. Given this requirement, a stop should reflect the reasonable limit of price fluctuations from wherever the local mean (µ) is currently.
This means that if a suitable local mean and standard deviation can be found, the probability of the stop being triggered by noise fluctuations alone can be related to the product of a "width" parameter (w) and a local standard deviation, built or hung from a local mean; i.e. µ ± w s with the sign depending on whether it is a buy (+) or sell (-) stop.
The width parameter (w) may vary depending on the instrument and strictly should be found by trial and error for each instrument. In practice, a value of 2 seems to work quite well for most, which is consistent with a value often used for Gaussian-based confidence limits.
In the input parameter box you can chose the length and width of the probabilistic stops you want to set-up.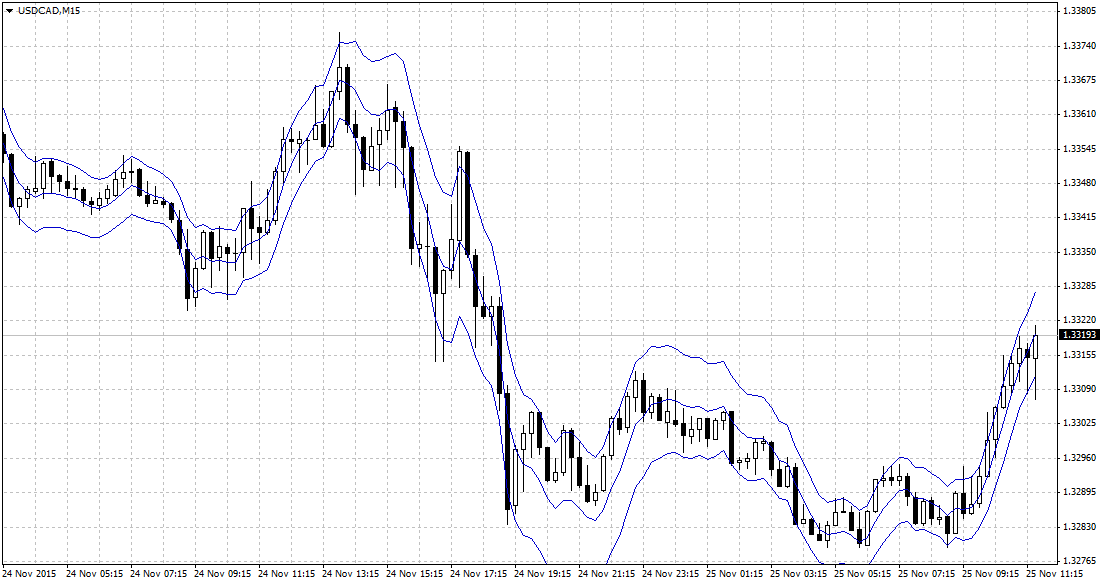 Back To Top